Angels Message Archive

Beginning in January, 2012, Lee started offering a public Angel message each month. The initial offerings were on video but are no longer available.

In June, 2012, the messages were offered publically in written form only.

March, 2016 was the last monthly message from the angels... and in April the messages changed to a seasonal format. April presents the first seasonal message - Spring.

There is an archive wherein all the public Angel Messages are stored. Lee invites you to browse the archived messages and to return here each change of seasons for the latest public Message From The Angels.

The messages are listed below in chronological order, the earliest at the top of the page, the latest at the bottom of the page.



June, 2012
Beloved Ones,

What a divine time it is to be alive upon the Earth. The flow of life has been quickening for all, as the Earth's own energy fields are changing into vibrations filled with more light and less density.
The recent blessing of the celestial event of Venus gracing the Sun, and the Sun blessing Venus with it's full radiant solar light, created blended waves of energy, that will be felt and experienced in your atmosphere for a long time.

Like waves touching the beach, the water flowing from a far distant shoreline to another, so it is with this experience. For many years, there has been the understanding that there is Oneness. A ball of energy goes out from your heart when you feel happy and loving, if it is coupled by your thoughts and intention to create peace in your life and upon the Earth, this creates an energy field that is felt and received by the Earth, there is a sense of wholeness and Oneness.

As your technology continues to develop, these energy fields that reveal oneness are easily seen through tools and equipment developed to comprehend and receive these delicate particles of light. As the human body continues to evolve and develop and gain access to more pathways of higher brain function and senses, these energy fields can and will be seen by the human eye, and also through the knowing of the human heart.

The Earth is blessed with the care and guidance of many Celestial Beings, these blessings can be felt when one is quiet in one's mind and receptive to the pulse of life as it flows through the body. Each breath can become a prayer of thankfulness and gratitude. As one opens to the blessings that flow freely and generously from the Cosmos, a person can feel more at peace, balanced in mind, body and soul and relaxed.

The Celestial Beings interact with the Earth and all it's dynamic life force energy, the magnificent Beings known to you as Sun and Venus, have recently gifted their love and energy to be as an example of the representation of the Divine Masculine and the Divine Feminine upon the Earth. Their energy was united as they danced with one another in the Heavens. The Sun representing a Masculine energy, blessed and acknowledged Venus as the Divine Feminine energy. With their example of Sacred Union, they demonstrate to all, the joy of being in exalted relationship.

Both men and women can and do experience both streams of energy. Now is the time of the Divine Feminine energies rising up more freely upon the Earth. Even within the strongest man, there is the capability to be tender and protective of all life. Like the arms or branches of a tall tree, gently holding a delicate bird's nest protecting it from the strong winds; so can the wonderful powerful energy of the Masculine offer it's support, intelligence, and power, to the creative, nurturing, life-sustaining intelligence of the Divine Feminine. All benefit from this union, as nothing is denied or set aside, power is balanced, life-nurturing decisions are made for all of Earth, including more love and care of the Earth herself.

Call upon the blessing and power of the Divine Masculine and the Divine Feminine, at their very best, in support of and harmony with, each other. Imagine that you are standing and living in the experience of being in the middle of a figure-eight symbol, the infinity symbol, with graceful arcs of energy from both streams flowing through you, and from you. What a wonderful and joyful feeling and experience. From the tops of the mountains to the depths of the oceans, from the tiniest drop of rain to the thundering waterfalls, all are connected to each other and in loving relationship. As you imagine peace and harmony between these forces, you create it to be.

Blessings to all




July, 2012
Beloved ones,

As the fullness of summer is ripening, the energies of Divine Connection are increasing. As you contemplate these words, use your own extra-ordinary gifts of imagination to create the doorway to open to receive the blessings of the heavenly worlds upon the Earth. There may be an experience of increased need for peace and understanding, sudden change that creates new awakenings in consciousness, intensification of emotions that lead to deeper self-awareness, and more ease and flow in manifestation. Beloved ones hold within your own heart the most positive loving feelings and thoughts for yourself and for each other and the world. As you visualize and feel into beauty and harmony within you, and around you, this is the world that you will create. Hold onto your highest dreams and visions for these energies can be planted like seeds in fertile cosmic soil now to become beautiful rich soul nourishment.

Blessings to all




August, 2012
Beloved ones,

What a glorious time upon the Earth as the season of Bounty is being shared in many parts of the world. The Earth gives so freely with her love and pure joy, nourishment for all to share easily when she is tended to with love and kindness.

As the Earth's weather and seasonal patterns are in increased flux and change, she still graces humanity with her pure water as it flows from beneath the ground and Her seeds as they ripen into fruit and plants. The Earth is striving to create harmony and balance.

There is also flux and change in the consciousness of humanity. The understanding that the Soil of the Earth and the Soul of Humanity are reflections of one another is shared in the wise saying "as above, so below".

As Humanity understands that its collective thoughts, actions and deeds deeply effect the planet, there will be increased movement towards nurturing the sanctity of the Earth, through self and collective responsibility for conscious living.

As you contemplate these words, ask of yourself what you can do to create more harmony and balance within your own mind and heart. Is it to forgive one who has caused you to feel discord, and thus extinguish a fire in your own mind that has been raging? Is it to nourish another with kind actions so that they are not in a desert of despair and heartache? Is it to give thanks for the water that flows into your home and cleanses you and quenches your thirst? As the water swirls down the drain after being of service to you, to say "thank you" as you send it on its way? By allowing yourself to become more fully aware of the daily gifts that are given to you so freely by the planet that you live upon, the Earth itself feels your love and responds with increased balance and stability.

All of life has consciousness, the far distant Stars, the swirling Wind, the whispers in the tall trees, the rise and fall of the ocean tides, all are aware of you. Are you aware of them?

Each day is an opportunity to re-kindle your compassion for yourself and the world around you. We invite you to share your love.

Blessings to all.



September, 2012
Beloved ones,

Many have been noticing patterns that felt fixed and permanent, becoming smooth and slippery. You may feel as if you are quickly traveling along a path that is exhilarating and new, or be craving the energy that brings you to a state of joy. Patterns that are no longer helpful are fading away.

The liquid light of the physical body is reflected all around you, by the water you drink, and the atoms of the air filled with the energy of light, that you breathe. You are of the Earth and of the Stars. You are the Light. The stars are constantly beaming their messages to you and all on Earth, of inspiration, joy and peace. All around you the world offers to you the bounty of it's love and kindness. Breathe in this love. Stop for a moment and take it in. With each breath know that Your life has purpose and meaning. All human souls come to Earth for evolution and transformation.

What are you wanting to transform in your life? Now is the time to call upon the Star Beings and those that Love you from Worlds Beyond to assist you in manifestation of your highest Life, Light and Dreams. Do this with your clear intent that you want to feel good, be happy and prosper. Create all your belief around this energy thought form, and The Universe will reflect this back to you in abundance.

Blessings to all.




October, 2012
Beloved ones,

At this time we wish to speak to you of this wonderful advancement in consciousness. So many are aware of their thoughts creating matter and becoming physical form. So many are aware that they are connected to each other as co-creators of a kind and peaceful world.

The current affairs may appear dismal or disheartening at times, and yet the outpouring of love and understanding by so many people, that the Earth is a loving place helps it to be so.

With the rising of the sun, each day brings new promise to the world, bringing rays of celestial light that carry blessings of love to the Earth. Receive these blessings into your heart, into your life, into your consciousness. Breathe it in, these blessings, this energy is given freely for all.

Many people are noticing shifts in their lives, more than they have experienced before. When a shift happens, it can be sudden and quick like a jolt of lightening or slow and subtle like a trickle of snow melting in spring. Choose to welcome change as an opportunity to expand your heart and consciousness, to create your thoughts and intention on what you are wanting to create in the now. Peace, love, joy, health, connection, well-being, abundance. Whatever you are choosing to create, allow it to come from your heart. Be in thanks, be in joy, be in love.

Blessings to All



November, 2012
Beloved ones,

The healing energies that flow through the Cosmos into the Earth, also flow through you. Just as a drop of water descends from the sky, becomes a dew drop on a leaf, falls to the ground, is absorbed into the Earth and rises up again to the sky; so it is with this supernal energy. The importance of being you is that you are unique and beautiful to behold as you transmit your own original radiant light. You also release your thoughts and emotions and ideas out into the world, like the dew drop as it falls from the leaf. These thoughts, emotions, feelings and ideas are felt as they are absorbed into the energetic grid of the Earth as a contribution from you to the golden grid of light. Your own profoundly beautiful blueprint that can only be transmitted by you, is placed into the energy field for all to absorb, learn and grow from.

What you give out into this grid of energy, you receive back again. Consider in your heart, who you want to be and what you want to receive, as you give your healing love, your kindness, your inspiration and joy to others, know that like the ocean waves, this energy will be sent out from you on your breath and come back to you to the shores of your heart. It will be filled with the vibrations of others who resonate at the same frequency, and as a gift you will be filled with more fullness and radiance. Remember that you are an important light in the Cosmos, as radiant as the golden sun and as shining as a star.

Blessings to All.

DECEMBER, 2012
Beloved Ones,

The prayers of love and good intentions that humans have created from their own consciousness and hearts, coupled with the grace and light of the Universe have manifested an energy much like a blanket of soft pink snow, glistening with sparkles of golden light. This energy field hushes the cries of strife and despair and puts out the fires of discontent and sorrow.

As this blanket of Divine Love and Well-being covers the Earth, it brings about the impulse and energy for Life, based upon Unconditional Love and Understanding for All. As this energy grows it becomes laced with an emerald green vine of new hope, filled with the flowers of passion, joy, inspiration, and beauty and it envelops the world in goodness and peace. Feel, see and know that the blanket of peace, woven with love for you is wrapped around your shoulders and holding you in a cocoon of deep grace and connection to Spirit.

Such a blessed time is upon All. The Light and Blessings of the Universe come to all those who are willing and open to receive positive change. Know that you are part of the sacred Universe.

Blessings to all.

JANUARY, 2013
Beloved Ones,

What a glorious energy spreading out across the Earth. As seen from the heavenly worlds, it is a light filled wave of positivity, since the hearts and souls of humanity have chosen to be free of the shackles of bondage to fear and separation.

Like water washing across the sand, this light filled wave will continue to expand, touching all the grains of sand upon the beach. All human beings will eventually choose to be brought into this light, touching the truth of understanding that all are one.

Rejoice in your knowing that you are THERE. In the heart of understanding rests this multi-layered, luminescent energy of divinity; you are always connected to this place of ease and peace and eternal grace. You may turn away from it in moments of doubt, fear, or worry, but when you choose to be standing again in this place of peace, you are there again; this energy of grace will never leave you.
If you turn away from this place of peace, the other path can also be a place to explore, learn and grow, yet in the end it will always lead you back to the place of peace and light within.

You are at one with us, we are one with you.

In our loving embrace we thank you for your Breath of Being.

The Angels of Light.



FEBRUARY, 2013
Beloved Ones,

The soul and consciousness begins as a spark born from the quest for more awareness and love. Spirit graces this divine energy with the blessing of connection, like a plug into a socket, this creation begins the path of love. The human heart is a magnificent vessel, a universe unto itself. One's heart holds this space for love.

The path of love is created by one's choosing in each moment, the opportunity to expand the heart's consciousness. To gather wisdom and to live one's life from a place of care and awareness requires the act of choosing to open to the unknown in one's life, the unexplored.

For some the unexplored act of experiencing the heart's joy, may be felt first as reaching beyond a fear or doubt, to a place of trust and knowing. To reach beyond this fear or hesitation asks one to be curious and courageous. This quest of the curious can begin the path to understanding, and when understanding brings awareness to the heart, there is love.

To bring awareness and wisdom to the heart is to dedicate oneself to becoming a student of the heart, to be willing to be in unfamiliar places of experience and to be without preconceived judgment. To be as open and courageous as a butterfly as it lands on a flower, not knowing for certain what it will find, but being open to the experience nonetheless.

Be as a butterfly, lifted up on wings of joy, as it flies across the fence to explore the gardens of life. Gather your experiences and take them to the vessel of your heart to be turned into understanding, awareness and love. The sweetness of the heart begins with a smile.

The Angels of Light.




JULY, 2013

Beloved Ones,

In this time of great awakening it may feel challenging to find one's calm and centered place. Using the gift of your mind and your breath combined with the great wisdom and strength of your heart, gives you the tools to be stable and strong like the tall grasses as they bend with the wind as it moves across the meadow.

Breathe into your body the eternally giving nature of the air around you and bless it with the warmth of your breath, as you breathe out your tensions or concerns. The air is a great source of recycling
energy, a conduit of flow and communication. Air can be thought of as your Angels In Residence! (A. I. R.)

Send out your troubles into the atmosphere and see or imagine them dissolving, like a powdered energy drink, as it changes from a dry substance to a wet one, it becomes a source of new energy and sustenance, so too can your breath help you to breathe away your sorrows or anxieties and breathe in peace and calm, transforming one experience into another more nurturing one.

We, your Angels and friends in Spirit are always surrounding you with positive energy and support. Using the gift of your imagination, lean your head back into our loving hands, and feel us cradling you with care and love. Your imagination can take you to that place of calm and peace. Then you can feel beyond your imagination into the true reality that you are always loved, always cherished and whole, and we are always with you.

The Angels of Light





August, 2013

Beloved Ones,

When you have a deep desire to obtain something, the energy of your heart may become blocked because the mind is pushing strongly for the desire to become realized and Spirit and intuition are left out.

Intuition is a form of communication from your Soul, Highest Self and Spirit. To receive this divine guidance be in the place of open heart and open mind.

As if you are patiently feeding a wild animal, your arm outstretched, your palm open and filled with the golden seeds of trust, knowing that the bird will come and feed out of your hand as you are patient and relaxed. So it is in receiving all that you are desire to have manifest in your world.

The desire of the mind and ego can change in a moment, like a child wanting a new toy, then wanting another new toy and so on. Ask for what is best for your evolution of your soul, ask for what may be unknown to you at the moment that is truly the most appropriate experience, ask from your heart with your intention that your Soul be in charge and that what is best for your Highest

Good manifests for you. We love you and seek to serve you as representatives of your God self made manifest.

The Angels




September, 2013

Beloved Ones,

There may be a sense of urgency at times to take action, and your heart and mind may have two different places that they each want you to go in. Resolution comes when both are honored as carriers of wisdom and truth. Your soul can create a bridge so both are acknowledged. To ask self, which one is the way of peace? Which choice brings the most love? Perhaps both choices are good, both choices being like dolphins as they swim side by side, no one choice over the other. Perhaps one choice or voice is more demanding, like children both asking for your attention at the same moment. Take a breath, breathe in the infinite source of patience,of no time, no pressure, only now, only this moment. As you breathe in, sense the truth of your own precious Soul extending beyond limitations and boundaries. Dive into your Source of Soul Wisdom and Knowing, and bring forth the solution that is created from a place of expansive love. The Soul creates this bridge of understanding, when there is no pressure, no one "right" way, all ways being respected for the energy they bring.

In your world, many are understanding that your world is not divided, into "us" and "them". The understanding that is rising now and will be more pronounced in your future, is that all beings are connected as beautiful petals of the same flower. To tear apart one petal, diminishes the whole. Goodness begets goodness, like begets like, see the future that you want to live in and BE THERE.

The Angels




October, 2013

Beloved Ones,

Everything in natural creation is alive.The Earth is an alive Being, just as you are. Through the continual flow of energy, the earth corrects and cleanses Herself, through rainfall, wind, snow and heat. These changes affect and teach all that live and breathe upon Her. When these events happen in a dramatic way, many may feel bewildered or betrayed. What to do with well-laid plans, when there is a delay at the airport, or a home is tossed in the wind, or carried downstream?

It is a time to rely upon the strength and depth, generosity and magnificence of the human heart. Always there is an opportunity to come together, rising up in spirit to be your very best Self, as the Earth continues to move and change in sometimes surprising ways. To come together to share your gifts, whatever those gifts may be in the moment, is a way to advance human evolution. The kind words of a neighbor, the helping hand of a stranger, the loving support of community, this energy of love can be felt around the world and bring many together closely in caring consciousness.

As you love one another, remember to also love the Earth which gives to all so freely of its sacred creation. Walk with love, breathe with love, give thanks for this Being that you are a part of. Care for one another, even those who seem or appear so different than you are also a part of this wondrous creation.

The Angels




November, 2013

Beloved Ones,

The Spirit of the Divine is always with you At times you might feel it to be a strong presence and energy like having a best friend walking beside you at other times it may feel like your friend has gone, but at those moments it is truly with you the most. Perhaps your own emotion has created a mist or fog that makes it difficult to sense this energy, but it continues to give spiritual nourishment to you, even if you have become unaware.

This "it" is the energy of connection to all that exists in the Universe your own beautiful cord or tether of light that always is. When a person is born into a physical experience the umbilical cord is cut with the Mother.

The ethereal cord of light is always present, as your on going connection and bridge to the Divine Energy that you are a part of and is a part of you.

In times of great need, feel this cord as it connects you, you may sense it at the top or above your head, or coming from your heart; where you sense and feel it is personal to you. Feel and sense the light particles from your ethereal cord of pure energy always surrounding you and uplifting you and supporting you. You are a blessed divine being, created from Universal love and always returning to this Love.

The Angels




December, 2013

In this quiet season of Nature as the Earth turns her energy towards tomorrow, She rests in the breath of deep peace before the activity of Spring bursts forth. So too it can be a time of reflection for all who desire to receive the deeper gifts of the Season. To turn within, to contemplate and reflect on the past cycle of the year, and in the darkness look up towards the Star Beings as they bring their light even more brightly towards the Earth.

Beloved Ones, breathe in the star shine as it twinkles brightly above you, see this light as a mirror of your own bright light within your heart. Within this twinkling light of your heart resides the spark of Creation, the power to light a thousand Suns. Just as the tales of the Magi of Old sought to bring gifts of the heart, soul and spirit to a little baby in a manger. So it is that each soul, each person on Earth, is as important, as powerful, and as special as that little baby and that birth.

Feel your own star shine growing brightly and know that you are guided by great Angels of Hope and Peace and Goodwill, to assist you in experiencing the Life of bright light that you came to Earth to live. Rest in the knowing that you are on your path, your steps divinely guided by your wise Self, your divine Spirit, and all those that love you in Creation.

Blessings of peace and joy to you today and every day.

The Angels


January, 2014

Beloved Ones,

To feel each moment as the only moment that you will experience that particular moment can bring one to a place of deep contentment and expansiveness. Being with that moment fully, no judgment, no future, no past, allows for inspiration and information to flow into that moment easily.

If in that moment you are experiencing a particular kind of suffering, pain, upheaval, disappointment, anxiety or panic, soften the edges of this experience with your own breath. It will allow you to receive the gift of that moment. Gaining a birds eye view, as you see yourself as expansive as the sky and as deep as the ocean, more relaxation and more presence will come to you.

Know that our presence is with you in all of your moments. As your Angels we offer to you the energy of peace, serenity, tranquility, joy, information and inspiration, one moment after another.

Blessings to you in this moment and always.

The Angels



February, 2014

Beloved Ones,

Perhaps your gift is to be a bridge builder, helping others to walk with courage across a new path bringing people from diverse backgrounds and with unique tendencies together to make a design that is more whole and complete by the combining of their differences and strengths. Perhaps your gift is to notice the beauty and tenderness of the people around you and like a conductor of a great symphony, blending and creating with others, inspirations and creations for the world to enjoy.

Perhaps your gift is to be an investigator who digs deep into the layers of understanding of the Earth and its many riches and mysteries or to look to the Stars to create communion with the expansive Universe. Perhaps your gift is to listen to the communication and teachings of the animals of the Earth, Sky and Ocean, or to notice the teachings of the insects and other Beings that are often invisible to the human eye.

Perhaps your gift is to walk the Earth with consciousness and thankfulness, breathing in peace, breathing out love. Or you care deeply about the welfare of others and see opportunities to give your love that creates health and well-being for others in their bodies, minds and souls. Or you seek to create new systems that are based on love and understanding.

Or you are one who has colors and textures and worlds of creativity bursting out of you in a thousand different expressions of creation, art, song, writings, pictures, images and joy. Your gifts that you bring, your heart, your mind, your creativity, your unique genius is a blessing to the world.

We celebrate the gift of you.

The Angels


March, 2014

Beloved Ones,

As you open your eyes to receive the impressions of a new day, the essence of grace surrounds you. As the bulbs of promise peek through the earth, their green shoots reaching towards the sun, full of potential and promise, so it is for each and every human being upon the earth.

The potential of bringing your hearts gifts into the world is so great, that there exists within you a pause between each heart beat, this allows for you to coordinate your intention of all that you are, to your own divine blueprint. To choose over and over again the opportunity to love. To consciously choose a loving and fulfilling experience of life, is exactly what you will manifest from your alignment with your divine blueprint.

If you feel that you are needing help in touching the place of beauty and grace and love within you and have need of a compass to locate your divine blueprint, we are with you, always near, to bring you to a place where you can see and hear and feel clearly again.

Ask and you shall receive, knock and the door shall be opened.

In Love Always,
your Angels


April, 2014

Beloved Ones,

The world in which you live is a great mirror to the inner world within you. As your hear the birds singing their spring time songs, so you too can "hear" within you the sounds of your own physical being singing in harmony with your spirit. By attuning to this inner voice, the voice of your heart, you can hear its conversations with Angels and all of the Divine. To get to this place of peace, your Spirit asks of you to breathe into your body with consciousness, as if by your breath you are turning on the lights within your house, room by room with a relaxed and calm approach, you allow your breath to calm you, bringing you to a place where you can rest quietly within your "house". Then from this place you can hear and feel and know of the friendship to your Spirit and your Angels and Guides.

Ask from this place of calm quiet and you will receive and "hear" our reply. The reply may come in the form of a feeling, a warmth in your chest, a shiver in your spine, or a thought that comes suddenly to your mind from a place of clarity, like sunlight bursting through the clouds. An image or picture may come to your mind, relax and allow yourself to receive these impressions and feelings and thoughts, as if you are listening to stories and teachings from an invited guest into your home.

These responses will always be from a place of love and peace, positivity and encouragement.

We rejoice in our ongoing conversations with YOU and respect you as the divine being of Grace and Light that you are.

with love,

your Angels



May, 2014

Beloved Ones,

In your creation, time is a useful tool, as the seasons change offering their precious gifts to the Earth and to all, in bringing balance and harmony. The snows of winter, turning to water, helping to create spring flowers, the flowers blooming into buds on the trees, and the trees buds becoming ripening fruit.

To allow time to be seen as a helpful friend, brings relaxation which allows for ease within you and ease in the world around you. As you allow the wave to wash upon the shore, without feeling the need to swim out and push the wave to the shore, one can find more comfort and peace in attuning to the rhythms of the waves, the cycles of life. Trusting that the next wave and the next will continue. In choosing to be in a space of relaxation, all that you are seeking to experience comes to you more easily. To rest in the knowledge that the seed is growing, that time is a friend to you.

Enjoy every moment, being present means being able to receive the gift of the eternal now. The circle of life wrapping its energy around you as a loving Angel encircling you with deep peace. Breathe out any anxieties or worries of the future and breathe in the love of this moment, love is all around you, breathe it in.

Blessings to you,

Your Angels



June, 2014

Beloved Ones

The Universe is always in motion, always "breathing" , always flowing. Planets move in the heavens, new stars are born, others become comets of light streaking through the sky.

Even the tall trees which seem to be standing in one place, have their roots stretching out under the earth with their leaves spreading towards the sky, always in motion.

As you are resting or deep in slumber, your heart is beating, your blood is flowing, your cells are refreshing themselves, new ones being formed, others fading away.

The mind and consciousness learn and expand, growing and developing through contact with new forms and avenues of expression.

To be at peace within oneself, is to invite in change and movement.

Allow your breath to be a constant reminder to breathe in blessings of peace and calm, joy and love with change.

Some may have difficulty embracing change and movement, yet that is the constant truth of the natural order of the Universe. Allow each breath to be a fresh opportunity to begin again.

Blessings to you,

Your Angels



July, 2014

Beloved Ones

When you experience a state that is in need of a new perspective, you can choose to rise above the clouds. When a person is riding within an airplane there may be a period of time when the plane is in a turbulent space. You may look out the window and only see clouds of white gray all around you. Then with the guidance of the captain, the plane climbs higher and rises above the clouds. Suddenly you are traveling in a smoother space where all you can see is blue sky and light on the horizon. When you find yourself in a turbulent place in your life, you too can rise above the clouds.

You can be the captain of your own plane in your consciousness, choosing to guide your mind and actions to that place beyond the clouds, that place of inner peace that is always available to you. Focus on your final destination of peace, happiness, serenity and joy. We are with you as your navigators, air traffic controllers and celestial crew to assist you in traveling to loving places within your own Soul's experience. Ask and we are always with you.

Blessings to you,

Your Angels



August, 2014

Beloved Ones,

To begin again means to "think anew" to be open to the freshness of this moment. To understand that every day, every moment on Earth, you have an opportunity to become completely refreshed and renewed through your choosing to be in the now. How wonderful it can feel to know that you are able to start a new thought, new idea, new emotion at any time. It is up to you! What do you want to create, be, think, do, NOW? Consider this moment the beginning of your time upon Earth. Let it evolve into the most beautiful expression of your highest vision for yourself and your life.

In many places on Earth the "news" continues to be of the past, old grudges and divisions, old beliefs of separation and despair. This is no longer "new" but of the past. Create the peace on Earth, that YOU want to create, choose it! See this as the new "news"! As you go about your life, loving all parts of yourself, including the old grudges, the old sorrows, the old "news", the worn-out beliefs, as you love all these parts of YOU, it allows a space to love all others as they are. Judgment is gone, anger is vanquished, all is a precious part of the new dawn of Love. Be as a child of the dawn, embrace the light in you.

Lovingly,

The Angels



September, 2014

Beloved Ones,

The divine compliments and complexities of energies that come together to make the most beautiful flower to bloom also creates you.

Like this flower, you too have roots of energy, of your former selfs, of your ancestry on Earth and your celestial connections. You also carry the potential light of who you will become, like the flower holds the seeds of birth and light within its very petals.

Your spiritual seeds hold the most precious and best aspects of your soul. Imagine your spiritual seeds taking flight, like seeds upon the wind, pollinating and enhancing your life and the lives of those around you, with all that you have come to offer the world. Your love, your wisdom, your laughter and joy, your imagination and intelligence.

We delight in witnessing the flow of love that emerges from each one of you, when you choose to share with others.

We thank you for your part in the boundless and bountiful creation of the Universe.

With Love,

The Angels




October, 2014

Beloved Ones,

Just as the moon bathes the earth with light, so too do you bring your light into the world. In times of darkness, the human spirit can continue to glow through the window of love. To nurture the light that is the essence of the human spirit one only needs to appreciate ones own essence. This can be done through recognizing the miracle that you are.

Your body is an extension of your soul's essence, the love and experiences that you have gleaned through other incarnations manifest in the being that you are now. Celebrate the light that shines so brightly within you, it cannot be extinguished for it is not truly yours. It is of the same spark of being that creates the moon and stars and your sun. It is infinite and it is divinely inspired, just as you are.

Be a window of love through celebrating the greatness and goodness that you are.

With Love,

The Angels




November, 2014

Beloved Ones,

The joys of being human are infinite.

What creates a sanctuary in your world that opens you to infinite joy? Is it to warm yourself by a glowing fire? To taste a crisp apple? To share a laugh with a loved one? What kindles your spark of joy?

Be on a quest each day to discover the joy that is always nestled within your own heart.

You will discover it!

Unwrap the gift of you!

With Love,

The Angels




December, 2014

Beloved Ones,

There are people who become focused on those who have lost their way. Harming others, harming themselves, harming the world in which you live. To focus on those who have lost their way, who have turned away from the light, is to allow oneself to be influenced by the confused, angry, sad and disheartened.

Instead we encourage you to be inspired, to be led by your own guiding star, the knowledge and wisdom that resides in your own heart. Be the leader of your life. Share a smile, gift a hug, lend a helping hand. Find a solution by creating the peace on Earth that you seek to experience, by first being at peace with all that you are. The hills and valleys, highlights and low lights of your own life. Acceptance brings peace, tenderness brings healing, understanding invites the heart to open like a flower to experience love.

Celebrate the unique and beautiful Being that YOU are!

With Love,

The Angels



January 2015

Beloved Ones,

Your imagination is a divine gift.

As you imagine the life in which you want to live, the spark of light begins. Like lighting a match, you can choose if you want to light a candle with this match, and carry this candle forward, or blow the light out. The choice is always yours.

When your imagination is combined with the vitality and enthusiasm of your Heart, and the clear focus of your intellect, this dynamic combination develops this out picturing into your life.

We seek to gift you with inspiration and assistance in the manifestation of your brightest light coming forward.

Creation begins with you.

With Love,

The Angels



February 2015

Beloved Ones,

Spirit is a spark of Divine Presence within you. It is a gift to you as you inhabit your physical body in your Earthly experience. This spirit is not of you, but for you, like a bird has wings that help it to fly, so you have the presence of spirit that rests within your own being, giving you wings to fly to places of great peace, tranquility, wisdom and love.

Spirit, is an alive presence, like a radiant golden key, that can open doors to greater understanding of your own connection to the infinite source of God.

Each moment is an opportunity to attune to the infinite Presence through your own breath, knowing that your breath is a reminder of the presence of Spirit that resides within you.

Enjoy your connection to Spirit, like a bird that is nestled within your tree of life, singing its song of happiness and joy.

Listen, and you will hear it.

With Love,

The Angels



March 2015

Beloved Ones,

The saying that " you are the light of the world" is true. Just as the Sun radiates its warmth and life-giving energy to your world, so do you radiate your own unique light. The love that you can express through your own thoughts and actions can illuminate the world. At times of despair or hardship, your light expressed through your kindness and care can bring hope to another, like the sun's rays bursting through the clouds.

By being generous with your offering of attention and time and being present in that moment to show love to another, their world can become filled with possibilities again as you mirror to them their own light, even when they cannot see it themselves. This offering of love will not only be a healing gift to them but also to you, for as you give so shall you receive.

Your world is called the "blue world" but it is also a golden one. As you are each like a sparkling light, radiant in the darkness. Know that you are powerful beyond measure, through your intention to keep your own light shining brightly through the love that you feel in your heart for yourselves, one another and the earth upon which you live.

A loving person is like a twinkling star in the night sky. We honor your light.

With Love,

The Angels



April 2015

Beloved Ones,

As you are continually in creation with yourself, you are growing within just as a flower moves from a seed to a stalk to a full bloom in one season. Perhaps you are not aware that you are growing and blooming, when you see only your physical nature and yet, your consciousness, is capable of reaching beyond the knowing that you had yesterday, to expand into new places free of ego and strife.

You are a reflection of the creation that is happening every moment around you and within you. Your hearts experiences, your conscious actions, your souls desires, are all a part of your creation.

Just as you may stretch to put your feet on the ground or awaken your body in the morning, you can also awaken your consciousness every moment by choosing to be in the present knowing of your experience.

If you feel that your creation is not as you would wish it to be, re-shape your life, through the positive knowing that you can create over and over again. Imagine and allow it to become.

Create with love, create with kindness, create with joy. Shape your life as if you are the master artist, writer or director creating the most dynamic and enriching experience of your life.

With Love,

The Angels

May, 2015

Beloved Ones,

All that you seek outside yourself can only be experienced by first feeling it within yourself. The movement to begin a journey, originates from an impulse within you to say "yes" to this desire. A hunger within creates the movement to be satisfied and to fulfill this hunger.

You may look at a waterfall and wonder at its beauty ,energy and power, but when you feel the spray upon your own face you will understand it better. So it is with all experiences of life.

One of the many gifts of being human is the opportunity to experience through the senses. And so it is with the feelings of the heart, love is the most precious, powerful and healing experience upon the Earth. To touch love, taste love, feel love, know love, requires a curiosity and desire, to experience love. Welcome this experience into your heart daily.

The doorway to love is within.

With Love,

The Angels

June, 2015

Beloved Ones,

As the light glistens on a blade of grass, so does your light shine in the meadow of your soul. When clouds move across the landscape of your heart, be gentle and patient with yourself. Reflect on all the many landscapes and places that are inside of you. As you gaze into a mountain stream seeing your own reflection, you may also see the world above and below you reflected in the water. The sparkle of water, that leads your eye to a deeper place in the river, where you see a rock or shadow, that surprises you, a gleam of gold in the sand. Or perhaps you will see a white billowing cloud over your shoulder high above you in the sky as its presence is reflected in the ever moving stream.

All that you see, are dimensions of movement and life. You too are holding space as a dimension of consciousness, just like the stream, the cloud, the gold, the sky. Feel the freedom and ecstasy that arises from playing within the dimension that you reside, being able to interface and interact with the seen and unseen worlds, as you feel the kiss of a breeze upon your face or feel the warmth of energy from a golden sunset, or whisper of love from a tree as you walk by.

The natural and supernatural worlds are in a state of communion, see yourself as a conscious bridge to receive the gifts of these dimensions, that can inform, guide, protect and uplift you on your journey.

with love,

The Angels



July, 2015

Beloved Ones,

To be in the realm of loving relationship is to be in the world as an awake human being. When one is awake to the person beside them, awake to the energy of consciousness that is present at all times in all things in the natural world, then one can choose to be in an enlightened state of relationship.

First to be in the presence of ones own emotions and energies, brings awareness of how one moves in the world, speaks and acts, from this place of loving awareness a person can move into conscious connection and sacred relationship with others.

Know that your guiding star of love, your Angel, is present within you at all times radiating its wisdom and warmth, courage and kindness, to all situations at all times.

Relate as if your heart is seen by all, like a jewel shining through a clear glass window, sparkling in the sunlight. All who see it will want to come closer and know of its light.

Allow your gem to shine brightly and be the beautiful jewel that only you can be.

with love,

The Angels


August, 2015

Beloved Ones,

To be in the silence of ones own presence is a powerful way to connect to your divine self, to God, to your Angels, and all those that love and guide you in Spirit.

Sometimes silence can be very loud, like suddenly hearing the crashing waves upon the beach, after turning off your internal i-tunes or radio.

To quiet the mind can be like trying to land a kite that keeps taking off again in a strong wind. Be patient, as the mind will chatter and have all sorts of fascinating things to tell you. As you focus on just breathing and listening to the silence, the mind will become more settled.

When you seek to be in silence, connecting with your hearts wisdom, listening and feeling the rise and fall of your own breath; you are tending to your spiritual self. Take time to be replenished at the well of silence.

To be in this place of quiet can bring you many gifts. Be with the bliss that can come through the silence, allowing you to experience the exquisite joy of being alive.

with love,

The Angels


September, 2015

Beloved Ones,

As you flow through your days with endless opportunities to do and think and feel, it can be elusive to find the place to "be".

Be-ingness is a part of you, just as a baby contemplates the discovery of her hands, her mouth, her nose, so you too can be as a child again, in the discovery of your own be-ing-ness, and preciousness. The unique being of you, is yours to discover.

We as your Angels are with you to encourage and support you in remembering the aspects of your Self that only you hold as purely you. The world is full of many precious and wonderful people, remember that you are one of them too!

Encircled in the loving Grace of the Universe may blessings shower upon you.

with love,

The Angels



October, 2015

Beloved Ones,

Within each breath, that is a spark of pure light and potential.

This spark offers you the opportunity to create your life as you wish it to be.

Just as you are made from the same materials in your physical body as the stars and the Earth, so is the essence of life all around you a compilation of all the goodness of the Universe.

As you take a moment to connect with the quality of this holy essence, you are able to know the Creator. The ocean and mountains, green forests and desert landscapes, laughter of children, sigh of lovers, movement of the wind in the trees, is also in that moment.

With care and love for yourself feel the spark within you illuminating your path, illuminating your relationships, illuminating your world.

with love,

The Angels



November, 2015

Beloved Ones,

The joy in your heart is like a song that goes out into the world and comes back to you again, like a beautiful melody or echo of love.

Focus your thoughts each day on the most joyful experience of your life. Perhaps its about a dear friend or loved one and a memory that makes your heart leap with happiness. Perhaps its a picture of an event from the world around you, you just observed and that made you smile .

As you use your gift of your imagination, imagining a happy experience for yourself, the world, friends and loved ones, people everywhere, animals, nature ,all living creatures of the earth, you help it to happen!

You are powerful, you are full of grace and power, beauty and love. You are complete and magnificent.

Be in thanks for the brilliant being that only you can be. Like a thousand rays of light, you are the only one that sparkles like you!

with love,

The Angels



December, 2015

Beloved Ones,

The light of love surrounds you, sunshine is a reminder of this love. The beauty and power of Nature is a reminder of this love. Every day all souls upon earth are surrounded by this love, so there is nothing to fear, nothing to hold onto as love truly is surrounding the Earth at all times.

If you become afraid and feel that you have encountered darkness, a dark period of your life, depression, sadness, isolation, anger, you can choose to welcome the darkness as a counter-part to the light. In the physical world this means to open the door of your heart even more. Do not shut the door out of anxiety, fear of the unknown or fear of the dark, as the saying goes, "light a candle, and the darkness is illuminated." To do this takes a leap of faith, to allow oneself to feel bigger not smaller, to allow oneself to say "yes." Be kind and curious and non-judgmental about whatever emotion you are experiencing in this darkness,; know that we are with you, your Angels and Spirit Friends guiding you always back to your precious light.

There are those on Earth who are deeply suffering from fear of one another, fear of change, fear of darkness, even fear of light. So much fear and anxiety has no room in the warm fire of your heart. Remember who you love, remember that you love, remember that you are loved. You are a great soul, a wise soul, gathering more wisdom, you came to Earth to give of your own unique and special light and your own way of sharing love. You came to Earth to experience many things, and to learn and grow and to experience joy.

Send out love, like a warm breeze or delicate fragrance to those who are troubled, afraid, alone. See and feel the warmth that you have within you, always glowing in the fire light of your heart, radiating like the sun as it comes up over the horizon. This is God's gift to you.

Visualize this, that as the sun shines brightly upon the Earth, it represents a mirror reflection of the light you have within you. There may be those who go into the darkness, into the back of a cave to hide from the light, to forget that they are also of the light. They too are on their walk of self-discovery, for no matter how far one may seem to be away from oneself, the light remains.

Be as the sun for those who are in a time of suffering, darkness, fear. Send from your own heart and consciousness a wave of warm love, an offering from your heart to theirs, like a gift that you leave at their doorstep to open when they are ready. Love is the Ultimate Power. However, there is only One Light and that Light is made of the same essence as your individual light, so truly there is only Light.

Your Earth is in a time of great and wondrous opportunity, already the Angels are singing with joy, your Teachers and Guardians know what you have chosen, you have chosen light, you have chosen love, you have chosen joy, you have chosen freedom. Let this be your affirmation every day: "I am a being of light and I celebrate myself as a glowing sun of Light. I see Love and Light in all those around me."

with love,

The Angels

January, 2016

Beloved Ones,

The human heart is the center of your own personal universe. The sun and moon and stars are but a reflection of the magnificence that lies within you.

To live from the heart is to listen to the primal native language that all humans are born with. This language is love. This language has the ability to express itself in as many ways as waves on the ocean. It is extraordinary. This heart language is a unifying force, beyond dialect, beyond words, it is the language of energy expressed through the heart. So beautiful and profound is this love that it is the one language that all beings on Earth understand. Beyond place, time, race, religion. Love accepts all languages, understands all hearts. Love is a unifying force.

If one is opposed to your beliefs, your way of moving through the world, be not dismayed, rather see yourself as a gorgeous fish moving through the currents of the ocean, with many other beautiful colored fish, some are in pods or schools, some are swimming solo, others may appear scary, all are in the same ocean. Each has its place in the ocean of life, each has its place in the universe.

Be the best you can be by loving yourself as you are, loving each soul in their unique expression of themselves. It may seem like an impossible task to love each soul as they are but truly those who are appear to be the most unusual, opposite to you or threatening, are those that are in need of the most compassion and understanding.

The love of the human heart is so profoundly powerful that it is like a soft rain that smothers the most brutal flames of hatred, distrust, anger and rage. The human heart knows how to love, imagine a smile in your heart every day. You will feel better, your life will be happier, you will experience bliss.

with love,

The Angels

February, 2016

Beloved Ones,

To bring your self to any situation asks of you to be present. This is a step on the path of being a fully realized human being.

Being present is a uniquely divine and individual experience, it is to notice the energy that animates you. Your body, your breath, the world around you, all swirling and alive with so much presence. Like particles of sand and light swirling in water, so much of life is rushing around you and through you continually.

To be present is to be in this flow of energy and also aware that you are in this flow of energy. Fully awake to the exquisite potency of now. In this now, you are free to begin. Free to choose, free to be in complete union and harmony with all that is around you, and within you. The Universe, the Stars, the Sun and Moon, Nature, and all that creates the great picture of life that you are a part of and engage with every day.

Choose to be present and enjoy the experience of love, great boundless love, flowing through you and around you always.

with love,

The Angels



SPRING, 2016

Beloved Ones,

In this magnificent manifestation of your radiant self, you are a mirror of the cosmos and the cosmos is a mirror of you. We speak of this to you often as it is easy to forget how deeply divine you are. When you truly allow yourself to know that you are and everything around you is, a reflection of light, you will feel great peace and know profound serenity.

Loving the other, is loving the self, loving one full of angst and hostility, is loving the self, loving and having patience for those who do not reflect your view, is loving yourself. To love oneself is to profoundly accept all parts of the being that you are from your souls library of great wisdom to the blank spaces yet to be formed, love is you, love is your healing agent, love is what created you, love is...

We love and cherish you as a bright beacon of light in the cosmos.

Your Angels



SUMMER, 2016

Beloved Ones,

The cycles of the seasons are rich with their own unique gifts and opportunities. Summer's ripening brings the blessings of full light upon the Earth. This fullness can also be as a metaphor of the light that shines brightly within your spiritual heart.

As you see the splendor of the summer unfold, you may be comforted by the growth all around you. Within you, in the garden of your soul, resides the most precious gift, your own golden flecked heart of divine essence. This essence flows from the grace of the Universe to you and through you. A gift you can share as you so desire.

Earthly time tumbles the rough edges of ones soul through life experiences, creating textures and etches across the surface of your heart, this emotional and spiritual heart is a window, a doorway, where you can cross thresholds to new experiences of love and care, compassion and awareness.

If your heart feels bruised or battered, confused, in turmoil from your life experiences; wrap it tenderly in the cloth of eternal time, a pure white energy, that can create healing and blessing.

Give over your suffering to the Angels of Peace and Tranquility, fill your heart's chalice with the healing essence of eternal love that flows from the spheres of heaven, that connects all things, all beings, to the one true Grace.

Lovingly,

Your Angels



WINTER, 2016 / 2017

When you are in a place of adjusting your consciousness, it can feel as if your mind and heart have suddenly become like an old creaky door that needs oiling. The weather has changed and the door no longer swings easily and where there once was a smooth entrance and exit with no apparent thought to the motion, there becomes a loud sound that demands your immediate attention.

So it is in your physical world that what was once undiscovered, unnoticed and ignored becomes a loud noise asking for your attention. This "noise" might occur in your mind as it begins to think new thoughts or be challenged to move in new ways that may make you feel afraid, uncertain, or in despair. You may notice this "noise" in your physical body as you become aware of the need to quench your thirst, nourish your hunger or soothe an ache. This noise may be noticed in the world around you, with a fellow human being in need of care and attention that you hadn't noticed before.

These are grace moments, times when you can become present with a current need and respond accordingly. The response that is always appropriate, is love and kindness. To have kindness and patience with your mind as it discovers new pathways to resolve conflicts and strife, love for your physical body as you seek loving ways to nourish and care for it, and acts of kindness to the stranger on the street; respect and tolerance perhaps even curiosity for the person who lives thousands of miles away from your homeland or right next door and who is also on this same journey of awakening with you.

To be in a human form is to have the gift to choose to be awake in consciousness. To live in union with your mind and heart in partnership. You may choose to leave the gift wrapped and unopened, or you may choose to open it. The gift of being awake in ones own consciousness is to acknowledge that you are as connected to the "other" around you as you are connected to the hairs on your head, the air that you breathe, the heart that beats within you.

In times of change and awakening, one may feel a bit uncertain of the next steps, it may seem easier to ignore the loud noise of the creaky door, or move out of the house all together. Yet, when you choose to say ,"Yes" and create a loving action, a loving thought, then God's grace flows easily and effortlessly. The Universe is always loving, always embracing, without question.

By seeking to see the beauty of a sunrise or sunrise as a manifestation of Grace and Goodness, a rainbow, a bird song, a snowflake, a raindrop, a strangers smile, you will see the reflection of Gods Love all around you.

Breathe in the love on the air that surrounds you, breathe out your anxiety, worry or fear. You are as beautiful and full of hope as a rainbow, a snowflake, you are a part of the Golden Light of the All that Is. Cherish yourself, cherish one another.

With Love,

The Angels


SUMMER 2017

The Earth is alive with change and renewal every moment of every day. With each sunrise and sunset the energy of new potential graces the planet like a bird pecking out of its shell to experience the first breath of air. Life is new and renewed. Each breath you take, can remind you that you are new and renewed again and again and again.

Earth is a generating Source of great magnificence and depth, a mystery, where is it going, where did it come from, you are a part of this mystery, in the great creation of eternity.

You may feel hopeless at times, lonely, anxious, afraid, sad or angry, we as your Angels and Spiritual helpers encourage you to step into the quiet that is always available to you in your heart. Everyone on Earth wants to experience love, the heart knows the way to love, it is in the stillness, the quiet that you feel it. You can choose to go to that place of serenity and peace even in a crowded room, or on a busy highway, anyplace you find yourself, you take your paradise with you. You have the way to connect to Source, to God, to all that is, through your very own breath, and heart beat. That is the place that is yours alone it is a place of comfort and safety. To visit that place within you will give you confidence, peace, connection, clarity, a fullness of soul.. as if you are sitting beside your own personal lake filled with the purest, freshest water.

This is a time to go to the internal lake, your paradise, as the world is moving quickly to the next phase of evolution. All human beings are gifted the opportunity to be living a life filled with love, communication based on love and goodwill, solving communal problems with cooperation and consideration. Differences being able to be perceived as opportunities to build together a bridge of peace.

Say "yes" to Love. Create with your own imagination, intention, and focus the paradise you want to live from and to live in.

With Love,

The Angels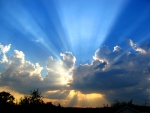 Turn your face towards the sun
and shadows will only fall behind you.

~ Asian Proverb



Copyright © 2008, 2012, 2015 2017 ConversationsWithTheAngles.com
All Rights Reserved.